Intro – Jungle Scout Review
Do you want to sell on Amazon but are not sure which tool to use to investigate a profitable product? Have you ever heard about Jungle Scout?  Jungle Scout is a tool to find low-competitive and profitable Amazon FBA products.
In this Jungle Scout review, I uncover everything you need to know with the latest information. I found that most reviews on the internet haven't been updated to reflect recent changes.
Jungle Scout has helped me to build a successful Amazon FBA business and still using it to do my product research before launching a new product. Read along with this guide and decide for yourself.
What has been covered in this Jungle Scout Review post?
I am an Amazon seller and enjoy sharing my reviews.
I think you will get and fair understanding of selecting products for Amazon FBA after reading this Jungle Scout review.
I cover below topics in this Jungle Scout review:
What is Jungle Scout (Do You Really Need it?)
Who created Jungle Scout?
Jungle Scout Components: Product Database and Tracker, Opportunity and Niche Hunter, Sales Estimator, etc.
Difference between Jungle Scout Web Application and Jungle Scout Chrome Extension
Which Jungle Scout to buy? Jungle Scout free
My Recommendation
What is Jungle Scout? What does Jungle Scout do?
Jungle Scout is an Amazon product research tool that helps to discover profitable products, estimate your sales volume, research product keywords, optimize Amazon listings, insights on consumer and competitor trends, track and validate product ideas, find quality suppliers, automate customer email communications, and build promotions.
Its web application searches the list of most profitable Amazon products and helps to discover the products that are easiest to start or grow your business with.
Who created Jungle Scout? Who owns Jungle Scout?
Jungle Scout was founded in 2015 by Greg Mercer as the solution to finding great products to sell on Amazon. Today, Jungle Scout provides a suite of Amazon seller tools for everything from finding a product to sourcing a supplier to launching and optimizing a product listing and more.
Do you really need Jungle Scout?
Most of the people selling on Amazon just guess about the products that they think will sell. They manually research a product and hope it will sell on Amazon.
They spend hours and hours researching products and depend upon their guessed product. Jungle Scout made product research easy and will research the product instantly.
In addition, product research is just a single aspect of the competition. If you choose a bad product then no matter how much you promote that product, you will fail to sell it on Amazon. The competition is fierce nowadays. You will not get a chance if you don't select a unique and profitable product, and Jungle Scout will help you choose that product. This Jungle Scout review will help you to understand the importance of the research tool.
Jungle Scout Components:
Product Database
A comprehensive Amazon product database that contains over 70 million products. It organizes and explores all the product ideas that match your search criteria.
You can apply filters to drill down to find the profitable product quickly that also meets your search criteria.
Some Amazon sellers ignore the product database, but I will recommend using it. You can also use keywords for your products which will also help to filter down the specific product to sell.
It is a must component to search for your profitable product.
Product Tracker
It will allow you to group your products and track them individually and as a group and display the entire sales history of a product. It quickly searches the average price, average fees, average daily units sold, the average daily rank of a product, and more as mentioned in this Jungle Scout review.
Jungle Scout's product tracker shows a snapshot of a product's sales history.
Niche Hunter
Niche Hunter is my all-time favorite tool to research profitable niche ideas and product keywords based on the below search parameters:
Amazon Product Category: All Amazon product categories are based on the country of Amazon marketplace.
Market Competition: Competition is calculated based on Jungle Scout's internal algorithm factoring in the number of reviews for the top 10 products under the respective keyword. The competition can be scaled from very low to very high, and everything in between with high or low scale.
Listing Quality Score (LQS): It shows the average listing quality score for the top 10 product listings. Each listing is graded for quality by an algorithm factoring in the title, keyword, photos, bullet points, and description to determine the overall quality of the product listing. A high score (8-10) would be the best listing and therefore represent a niche whose listings would be difficult for a seller to compete with. A low score (under 4) would represent a niche with poor-quality listings and therefore a good opportunity for sellers.
Average Price: The average sale price of the top 10 listings. I use this scale to determine the sale price of my selected product in a niche. I would recommend the sale price between $20 to $30.
Niche Score: The niche score is graded on a scale of 0 to 10. This is an aggregate score, factoring in the demand, competition and listing quality scores. A higher score here means it's a better opportunity for sellers. A lower score represents a keyword that may have low demand, high competition, high-quality listings, or a combination of these items A high score represents a competitive keyword, with most listings having many reviews. A low score represents a good opportunity for sellers.
Opportunity Finder (NEW)
In this Jungle Scout review, you will find that it is a new feature added to the Jungle Scout tool. Opportunity Finder helps to discover emerging trends and profitable product niches. It helps to build your Amazon business around unique products. It is a tool to research profitable product niches based on the below search criteria.
Average Monthly Units Sold: Average Monthly Product Units Sold. The average monthly units sold for listings in a niche. Scales from 0 to 1000+ units.
Competition: Measure competitiveness based on keywords and the number of reviews. Aim for competition in the low to medium range. Scales from very low to very high.
Monthly Search Volume: The number of times the keyword has been searched in the last 30 days.
Average Monthly Price: The average sales price for listings in this niche.
Niche Score: The Niche Score is graded on a scale of 1-10 where 10 is the highest opportunity and 1 is the lowest. The score is calculated based on the demand, competition, and quality of the listings in this niche.
Keyword Scout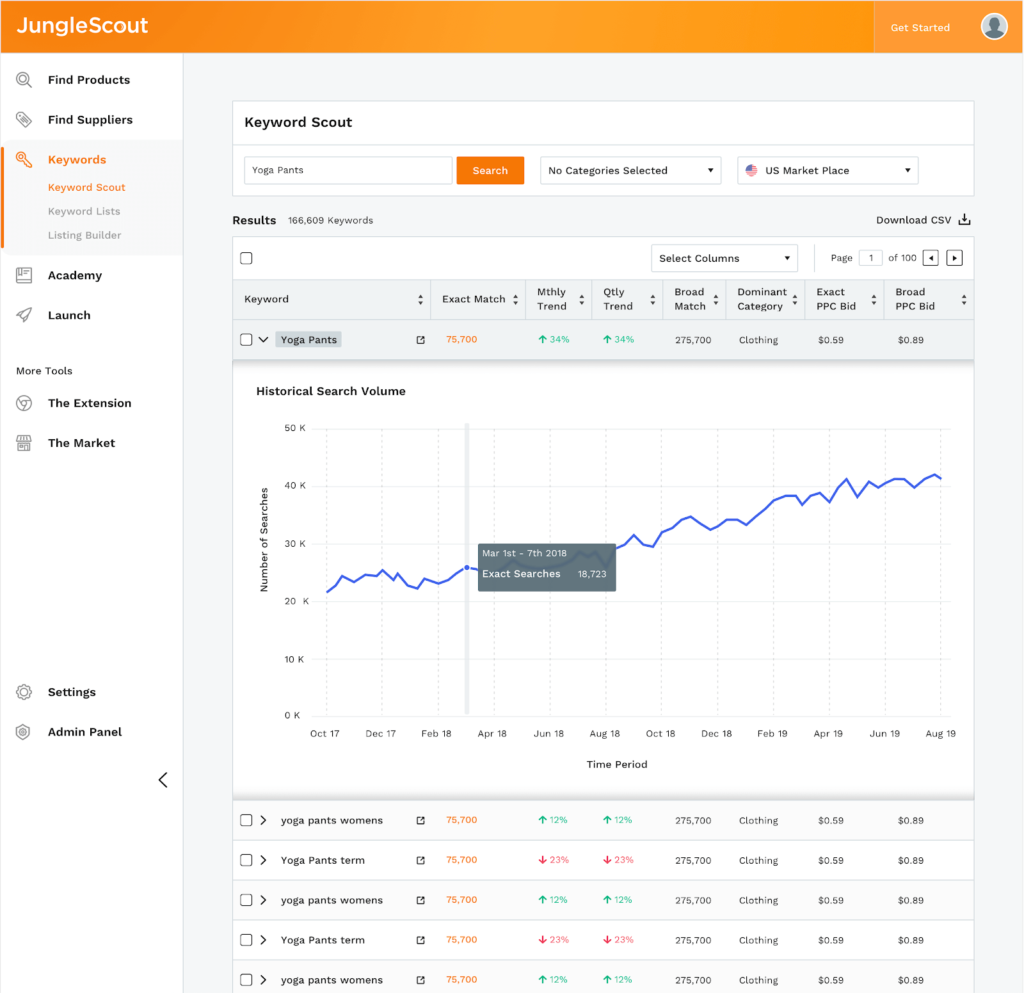 Amazon Keyword research is your key to the success of selling on Amazon as mentioned previously in this Jungle Scout review. You should make sure that people are searching for specific keywords to find your product, and that your Amazon listings are optimized to match those keywords.
It is very important to research your product keywords, otherwise, it will be just a guess, and you just hope that something will work.
You will waste a fair amount of money on Amazon without keyword research.
Keyword Scout generates a keyword list that you can use in your product listings and Amazon PPC advertisement campaigns. Keyword Scout gives you the monthly exact and broad search volume for keywords using actual Amazon data.
Keyword scout will give you the below search result columns to decide whether to go with that keyword or not.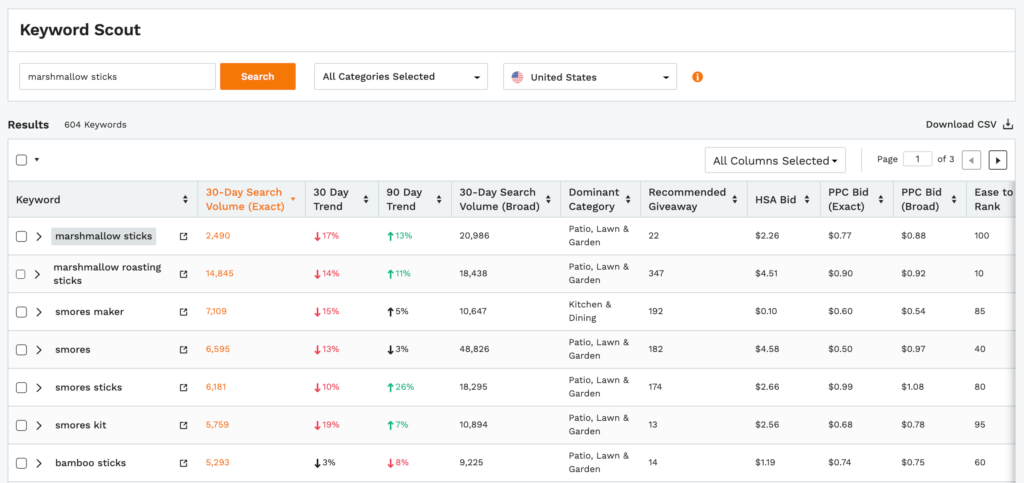 30-day search volume (Exact and Broad) – Number of times a keyword was searched in 30 days on Amazon search and whether it was an exact match or a broad match of the keyword
30-Day/90-Day Trend – Whether a keyword is getting popular or losing its popularity in percentage within 30 and 90 days
Pay Per Click (PPC Exact and Broad) – Amount of bid put for the exact or broad keyword
Ease to rank – Score number shows whether the keyword is easy to rank or not on Amazon search
Relevancy score – This score can be relevant if you are new to the Amazon FBA business. Not very helpful if you are already knowing your product or niche well
What is Jungle Scout chrome extension?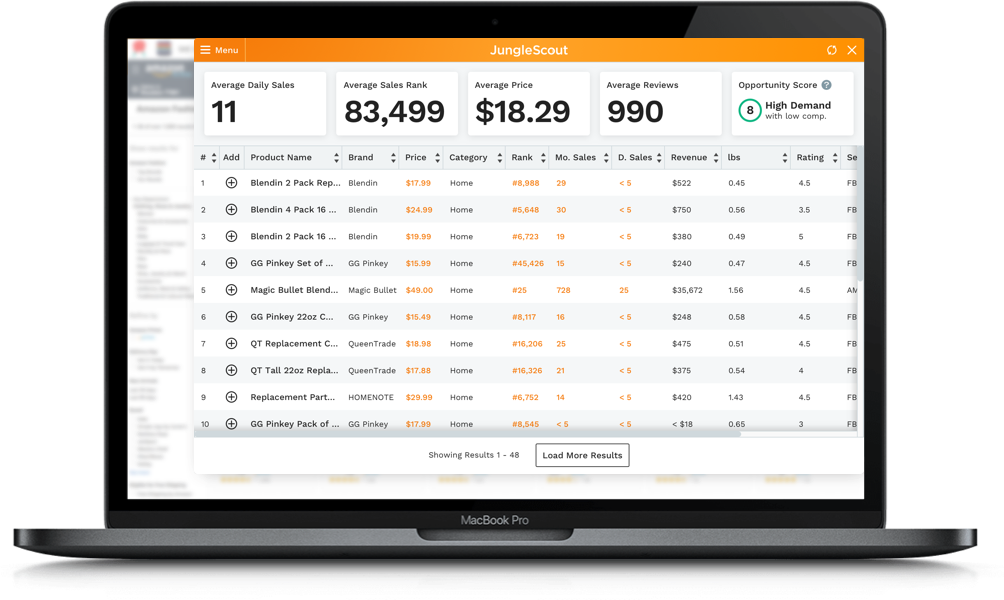 Jungle Scout comes in two flavors – Web Application and Chrome Browser Extension. You can read in depth Jungle Scout review below.
Jungle Scout – The Web Application
The Jungle Scout Web Application helps to find profitable niches and products by searching a comprehensive Jungle Scout database of Amazon listings as depicted in this Jungle Scout review. It gives the flexibility to narrow down the search by category, price, rank, sales, revenue, etc, and provide total control in finding a unique product.
You can tweak the search criteria to get refined search results with Jungle Scout's web application. I will recommend playing around with these settings to get the specific niches and sub-niches to focus on.
Jungle Scout – Chrome Extension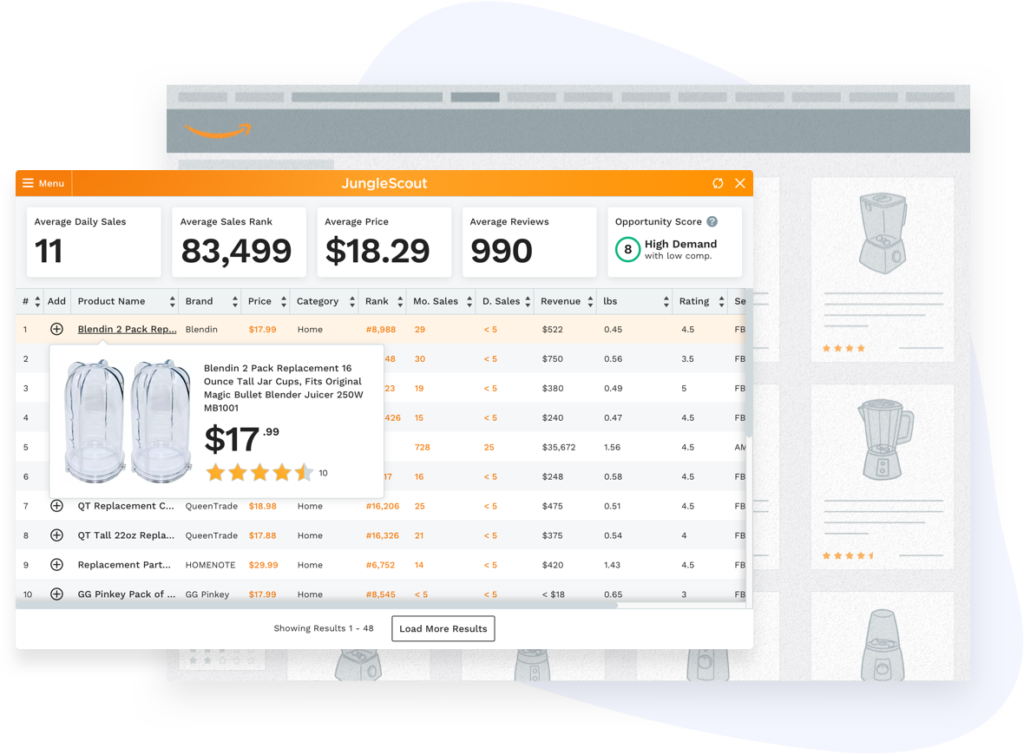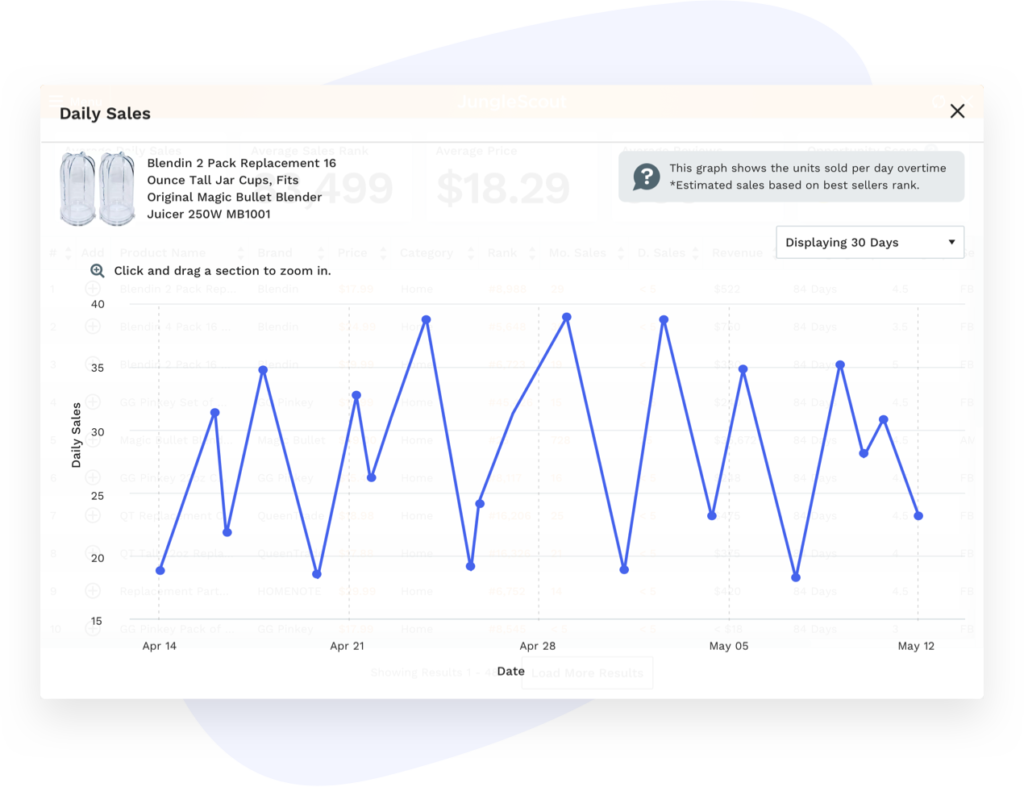 This comprehensive Jungle Scout review will help you to understand that the Jungle Scout Chrome extension help Amazon sellers to provide information about a niche while they are browsing to find product niche on Amazon. It will display the opportunity score of a niche with other column data to guide you to select a niche.
The Opportunity Score is a Jungle Scout's algorithm graded on a scale of 1-10 where 10 is the highest opportunity and 1 is the lowest. The score is calculated based on all listings extracted and their demand according to units sold, competition, and listing quality score. This Jungle Scout review will help you to understand it.
Which Jungle Scout to buy?
It really depends upon your budget, if you are on a tight budget then go for Jungle Scout Chrome Extension but if you can afford then go for a web application.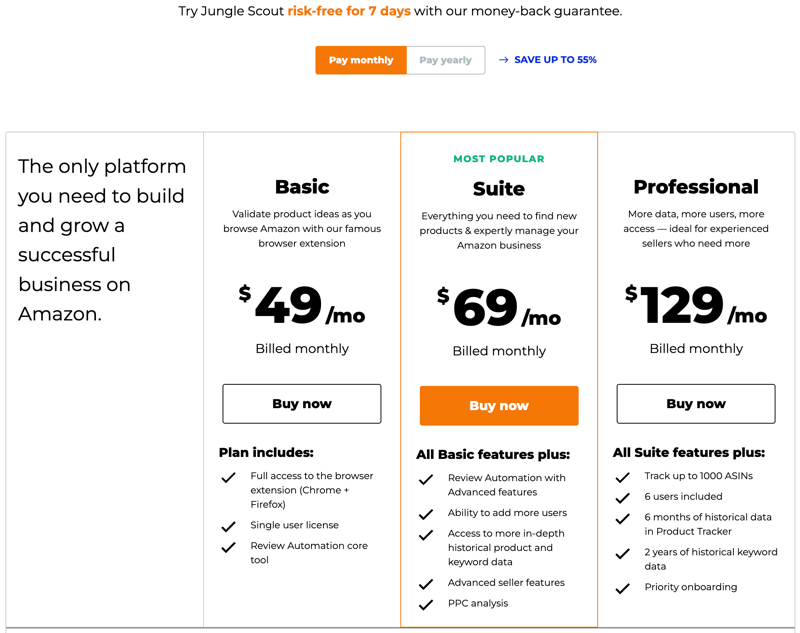 My Recommendation
Jungle Scout is an essential tool for your success on Amazon as mentioned in this Jungle Scout review. It will cut your product research time and allow you more free time to do other important activities required for your business. I recommend the Jungle Scout and Extension $69 plan; it comes with a web application and Chrome extension. This plan covers all required product research tools and saves you money from buying any other product research software tool.
You could think of Jungle Scout tool's investment as a huge saver in comparison to selecting and sourcing the wrong product which will eventually not sell on Amazon. I think the monthly plan fee of $69 is worth your investment into your Amazon business, but here is my deal.
If you are ready to pay a yearly subscription upfront, you can save 30% off the annual subscription plan using my special discount offer. It will save you $240 yearly, and monthly you only pay $49 instead of paying $69 when you choose to pay a yearly subscription upfront.
As it is a limited-time offer to help build your Amazon business, so jump in while it lasts. Check the Jungle Scout's 30% off deal here.