Why do you choose to sell on Amazon Japan FBA? Use Sellersprite to Choose Profitable Product
Amazon Japan FBA marketplace has a lot more potential to sell profitable products than Amazon US marketplace because the competition is much lower in comparison to the US. You should avoid the huge competition and start preparing to sell on Amazon Japan. But someone said it is difficult to research profitable products for Amazon Japan FBA marketplace because almost all product research tools in the market today doesn't support Amazon Japan marketplace on their list.
Is there any product research tool available for Amazon Japan FBA? Sellersprite is the Only Tool Available for Amazon Japan
All right, if you want to know how to find the best products to sell on Amazon Japan then you should know the product research tool to use and I am going to show you exactly how to do so in a step-by-step process.
So, first, before I get into the tool and show you how to use it, it's probably important for you to have your own kind of personal search criteria when you're searching around for Amazon Japan FBA products. I'll share with you a basic kind of outline and a kind of general rules that I use when I research products for Amazon Japan marketplace.
So, the tool I am going to use to research a product is called SellerSprite. I will use the below criteria to research a product for Amazon Japan FBA. You can research product on SellerSprite from seven marketplaces, which are United States, Japan, United Kingdom, Germany, France, Italy and Spain. But I am going to use Amazon Japan marketplace to research products. SellerSprite is the only tool available now to research products on Amazon Japan marketplace.
How to research a profitable product for Amazon Japan FBA?
The most important thing is to check the demand of your selected product, so you can take the guesswork out of whether your product is going to sell or not. For that purpose, do some research to see if other people are selling a similar product that you want to sell. Once you find the product you want to sell then you just differentiate it from the researched product and make your product better or include something or improve features.
I would suggest looking for below parameters while you research your product for Amazon Japan FBA.
1. Monthly units sold of a product – 100 to 1000 units
2. Monthly revenue of a product – 10,000 JPY to 2,000,000 JPY
3. Look for low review products –Under 100
4. Price of the product – 1,200 JPY to 5,000 JPY
5. Select a product category – choose a product category from the available category's list
6. At least 2 sellers on Japan Amazon should be selling a similar product. It will validate the demand of your selected product in the market. Although the number of sellers suggested for Amazon US marketplace is more than 10 but keep in mind that the US Amazon marketplace has a huge number of sellers and products.
7. Product total weight should be under 1kg – Which is easy to ship from Amazon warehouse to customer
8. Should not be a seasonal product – A seasonal product is a product which sells only in a specific season, for example, Winter, Summer, or Christmas season or Halloween etc.
9. Product should not require any specific certifications or patent or trademark
10. Product should have a differentiation capability. Product that can easily be produced with changed parameters. For example, change in colour or change in size or can be bundled together
11. Product should be selling on Amazon Japan marketplace more than 3 months
12. Product have X-factor. It is a little bit difficult to explain what x-factor is, but this is the moment when you look at the product and immediately got an insight that this is the product, I want to sell
Login to your SellerSprite account and select Product Research from the menu as shown below.
You should change the Amazon Japan FBA category list to English from Japanese by right-clicking in a Chrome browser and select Translate to English. See below image for explanation.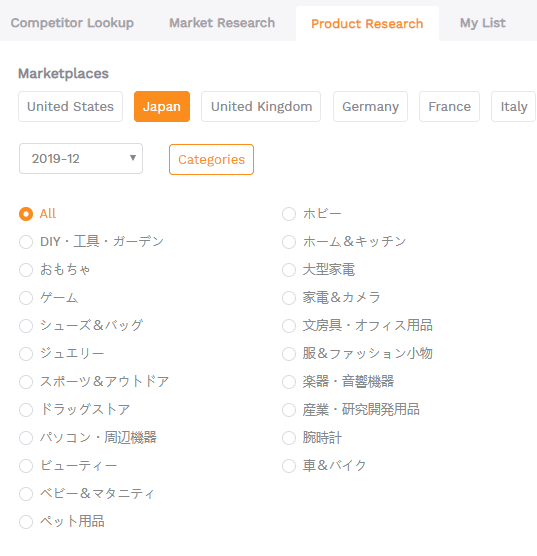 Then input the above search criteria as shown below.
Now change the product research results in ascending order of monthly revenue growth. Which will show the products which are less selling, so that you can navigate to products which has still potential to sell on the Amazon Japan FBA marketplace. See below image for reference.

For example, as shown in below screenshot, I selected a product Silicon Animal Ice Cube Tray. This product meets all the research criteria, monthly units sold is 114, monthly revenue is 137,940 JPY, product price is 1,210 JPY, customer reviews are under 100 and 2 sellers are selling the same product. It validates that this product could have your potential product. You can now research more about this product and start searching the similar or variation of the same product in the wholesale marketplace, such as Alibaba.
Let's see the same product on Amazon Japan. First change Amazon Japan language to English as shown below.
Now you can see the product description in English.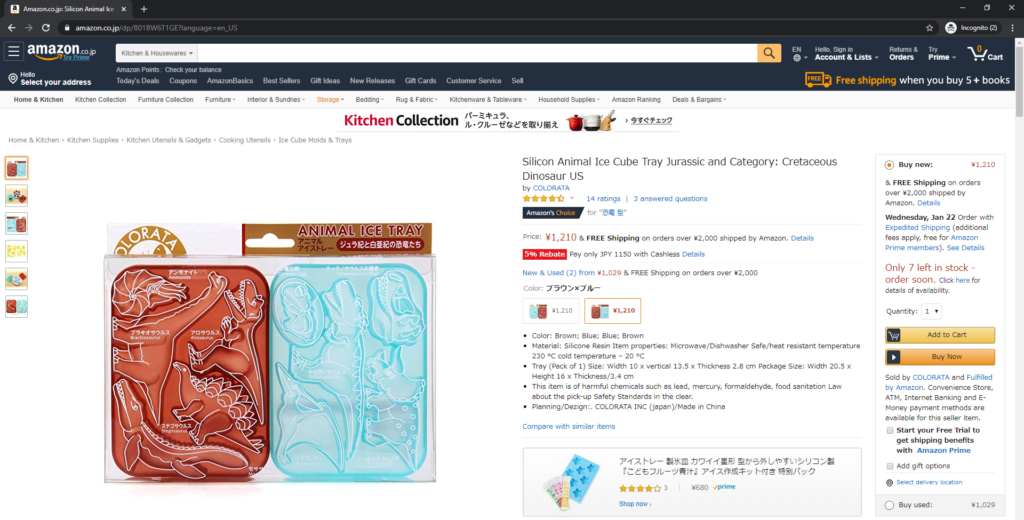 Another product I picked up is Antique Candle Stand Holder as below. It also fulfils all our research criteria except one, that is the number of sellers. Although only one seller is selling this product, but it has that x-factor. It can be easily differentiated by adding some modifications to the colour and design.

Once you click on ISIN number on the SellerSprite's result page, it will take you to the Amazon Japan FBA page as shown below.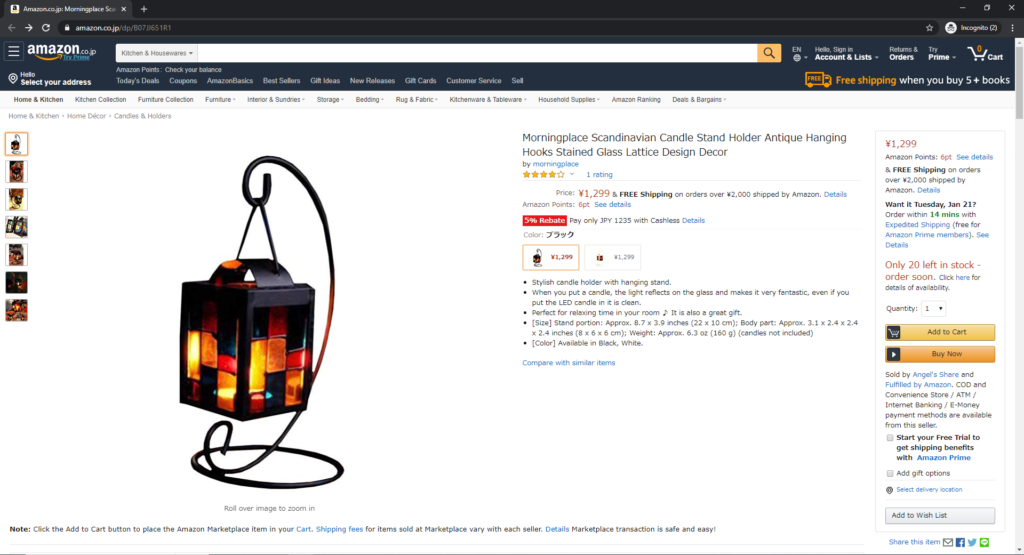 5 Must Try Online Wholesale Markets in India for Amazon FBA Sellers in 2020
India is home to one of the fastest-growing economy in the world. The growth stems from a robust industrial and manufacturing sector that has seen as one of the biggest wholesale suppliers in India… read more…
I would suggest finding products in India wholesale markets that could make a different. You can find products in Indian online wholesale marketplaces here… read more…
How can I get 30% discount on SellerSprite product research tool?
You can follow my SellerSprite's affiliate link here in order to get 30% discount on monthly subscription.