Online shopping and cashless transactions have gradually become the order of the century. People now look forward to owning affordable items of premium quality by simply clicking on webpages and applications from the comfort of their homes.
As a result, sellers on different online platforms – particularly Amazon – are constantly looking for the best locations from where they can source bestselling products to sell on Amazon. Besides quality, sellers are also looking for manufacturers that can supply these products on time, at affordable prices, and with less competition.
Therefore, looking at India's population, which corresponds to the greater availability of skilled resources, it shouldn't be a surprise that Amazon sellers are constantly sourcing for sellable products from the country. There's also a reasonable explanation for the sudden interest that buyers and investors have now developed in sourcing their products from this Asian country.
First of all, the Indian market is still developing. Buyers and investors do not have to grapple with the competition, and bad business terms. This rare convenience also entails that buyers do not have to deal with manufacturers with piles of business backlogs. And there's always a guarantee that manufacturers will offer favourable business terms.
The country's economic growth and plausible political system also contribute largely to making it a good location to source products to sell on Amazon.
In the end, buyers are beginning to see reasons why their sourcing focus needs to be shifted from highly competitive nations like China to countries like India. Below are the best products to sell on Amazon sourced from India.
Handcrafted Items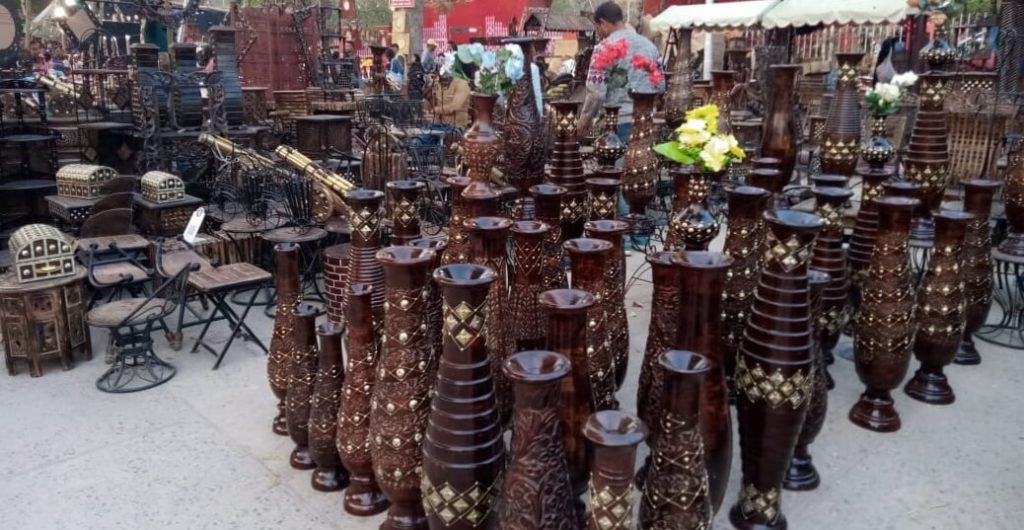 It's no longer news that most online shoppers are not just looking for items with premium quality. They also want to purchase items around which there is a story to tell. And no other line of items has the potential to possess a production story than handcrafted items.
Fortunately, India ranks among the top countries that are into large scale production of handcrafted goods. Hence, most Amazon sellers run to India when they need items handmade from wood, precious stones, and other bestselling raw materials.
As a matter of fact, every state in India is famous for one handcrafted line of products or the other. From handcrafted bags to handmade pieces of clothing, jewellery, and sculptures, Amazon sellers can readily get good bargains for these products in several Indian states to sell on Amazon.
For example, when items like handmade furniture, latticework, and figurines are needed, a state like Rajasthan has the craftsmanship to meet any level of demand. Also, Andhra Pradesh is naturally endowed with sandalwood used for carving panels, frameworks, and columns for stable export.
Handcrafted products that can be sourced from India can also be made from embroidery, clay, metals, and glass. And artisans use different tools from traditional or natural tools to modern, and industrial-grade equipment.
Some manufacturers that can supply these handmade products in wholesale quantity include Bag Craft India Ltd, Jai Mahaveer Plywood, Valentine India Jewelry India Pvt Ltd, etc.
Leather Products
India ranks among the world's top producers of leather clothing and footwear. The country is currently responsible for almost 13% of leather production around the world.
The northern regions of India are well-known for their production and exportation of leather bags. Southern India is also famous for the exportation of handmade leather products like bags, belts, and money purses.
Hence, leather ranks among the best products to sell on Amazon sourced from India. A good number of Indian leather products currently gather numerous reviews and purchases on Amazon.
You can get leather products from some of the following Indian manufacturers: Apex Leather Factory, Craftshades Incorporated, Indian Leather Craft, Dolphin Leathers Ltd, etc. Source leather bags from India.
Products Made from Jute
Jute is a vegetable fibre with the second-highest rate of production in the world. It is currently graded among the most cost-effective biodegradable fibres around the globe.
Jute is used to produce items like rugs, mats, baskets, bags, and twine. These items are usually longlasting because of the durability of jute, which is readily available in India.
It is also very affordable in the country, and Amazon sellers are always ready for their place orders on jute products made in India to sell on Amazon. Some manufacturers that supply these products include; Param Jutes, Just Jutes Products, and Handcraft Worldwide, etc. Jute Bags: How to Source from India?
Products Made from Brass and Silver
Brass and silver are two natural substances that are readily found in India. Hence, products made from them rank among the best India sourced products to sell on Amazon.
Several states in India, such as Gujarat, are widely known as the commercial hubs for the production of silver and brass items. And a countless number of sellers in the state are always ready to supply Amazon sellers with top-quality jewellery made from silver and brass. They include Sunrise Jewelers, Silver Brass Enterprise, Silver and Gem Exports, etc.
Gold-Plated Products
Gold-plating of different items involves dipping the items in gold to give it the look of actual gold. Consequently, gold-plated jewellery is barely different in appearance from the ones that are originally made from gold.
For example, gold-coated silver jewellery is usually first made from 925 sterling silver, and later plated with 24k gold. These jewellery are sometimes not different in look from gold jewellery and often take the form of necklaces, earrings, rings, and bracelets. Antiques and some elegant furniture can also be gold-plated for aesthetic purposes.
Gold-plated jewellery is as ornamental as their gold counterparts and is usually patronized by both online and offline shoppers on moderate budgets.
Although India doesn't exactly rank among the world's best producer gold, the country is undoubtedly famous for producing gold-plated items. Rajasthan and Maharashtra are two states in India known widely for premium quality gold-plated items.
Therefore, in addition to other benefits of transacting with the growing Asian country, buyers also see reasons to source for gold-plated items from India to sell on Amazon. Manufacturers of gold-plated products in India include- Usha Gold-plating Works, Handicraft Hub India, and many others.
Conclusion
Factors like the increase in Chinese tariffs by the US government and the low minimum order quantity accepted in India make the country a great sourcing destination for Amazon products. Also, buyers cannot overlook the fact that labour is readily available in the country. And this means that the relative cost of production of these products – and consequently, their cost of purchase – will be much lower.
With the products above being the best, numerous other products are readily sourced from India to sell on Amazon. Most Amazon sellers are fully aware of this and are not missing out on the excellent bargain.