Amazon FBA sellers should try the wholesale market India Online to source unique and profitable products from India. This blog post will reveal the online wholesale markets in India online that you must give a try to source your products for your Amazon FBA private label business.
India is the second-largest populated country in the world after China, so a lot of hidden potential wholesale opportunities can be found in the Indian manufacturing market. Although India is lagging in terms of manufacturing technology, a variety of handicraft products can be sourced from various markets in India to build your private label business. Amazon FBA sellers can find a lot of unique products by visiting physically handicraft fairs in India and on online shopping sites, which can not be found in China.
Amazon FBA sellers and online sellers can find a variety of products from these wholesale markets in India online which can be ranged from textile, leather goods, leather shoes, fashion accessories, bags, kitchen items and more. All these Indian wholesale marketplaces are equipped to sell clothing, jewellery, kitchen products, apparel and garment products and housewares and supplies products.
Even though India has a booming IT industry but a large chunk of manufacturer and wholesaler still does not has an online presence. You can find lots of wholesalers and manufacturers on these websites but there are a large number of Indian businesses exists who are still doing business in a conventional way, and do not even have a website.  
Following is the list of 5 best Indian online wholesale markets India online to source products for Amazon FBA business in 2020.
Website: https://www.indiamart.com
Indiamart is an Indian ecommerce company that provides wholesale platform for Indian suppliers and manufacturers. It is like Alibaba platform for Indian market. It is the most popular online marketplace to source wholesale products from India. It was founded in 1996 by Dinesh Agarwal and Brijesh Agrawal to connect Indian manufacturers with buyers. As it is the largest directory of Indian manufacturers suppliers and distributors with hundreds of different products, so you can find almost anything to source from here.
The most common categories of products listed on Indiamart include furniture supplies, building and construction material, apparel and garments, industrial supplies and much more. Indiamart has around 4.8 million Indian suppliers and more than 60 million buyers and over 50 million products listed online to buy for your private label business.
Website: https://www.tradeindia.com
TradeIndia is an online Business to Business portal for small businesses based in India and around the globe. It serves the same market of business-to-business wholesale market as Indiamart. It was founded in 1996 by Bikky Khosla. According to them, they have an average of 20 million users monthly on their website. It has become a popular platform to meet buyers and sellers online. The platform helps exporters to find overseas buyers and buyers get the product at the lowest prices.
The buyers can post their request for quote requirements and can source products anywhere in the world. Amazon FBA sellers can leverage products for their private label business. You can wholesale clothing, furniture, gifts and crafts, home textile and furnishings online in India. It has 3.9 million sellers and 3.7 million registered buyers. It is free to register for sellers, so you must be vigilant of the suppliers you interact with.
Website: https://www.wholesalebox.co
WholesaleBox is another online platform where retailers can buy hassle-free. It is another leading online wholesale market for women clothing and accessories from India. Wholesalebox has factories producing an excellent selection of products as sellers list their ready inventory stock for sale to shopkeepers across the country. Its head office is in Jaipur India but has associated warehouses in different parts of India. Wholesalebox is an eCommerce wholesale platform which claims to reduce sourcing costs by up to 35% from conventional wholesale distributors.
Some of their listed categories include women's fashion ethnic wear, western wear, lingerie, footwear, jewellery, fabric, men's wear, and kids' wear.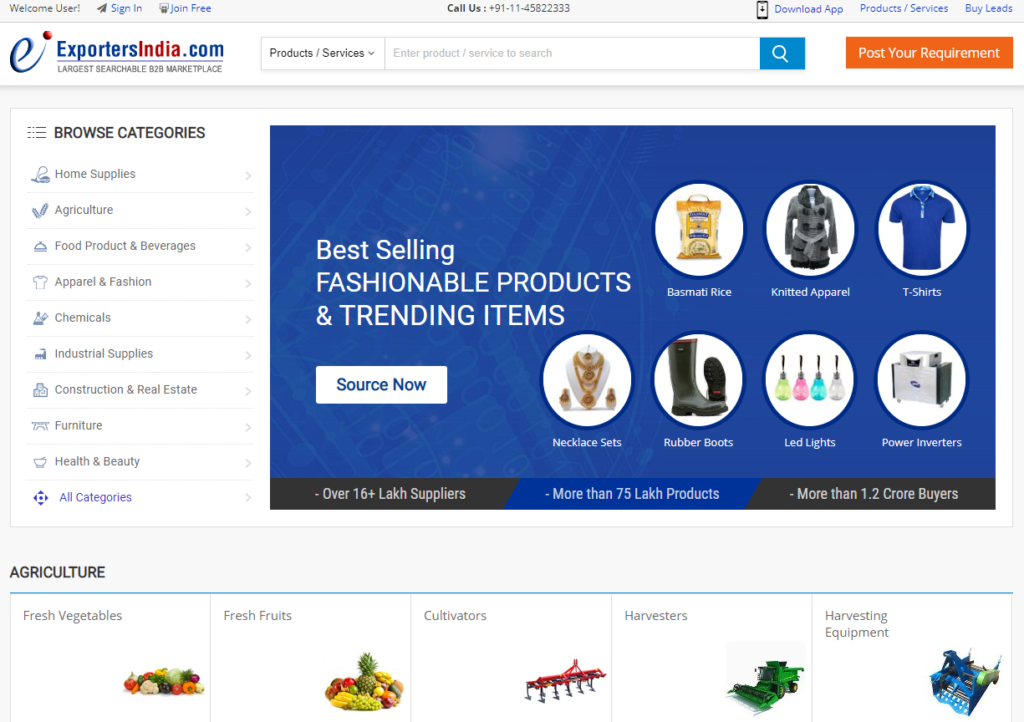 Website: https://www.exportersindia.com
ExportersIndia was founded in 1997 and is owned and managed by weblink, one of the leading names in the realm of web design and development and e-commerce solutions. As a technological background, they incorporate the latest updates in this field to make the business of the clients renowned worldwide. It has a huge databank of both buyers and sellers from across the globe. They claim to match the wholesalers for any type of buyer. It is free to register for wholesalers and buyers. Amazon FBA sellers can find products for their private label business in the categories of apparel and fashion, handicrafts and gifts, leather and leather products, natural stones, textiles and fabrics and more.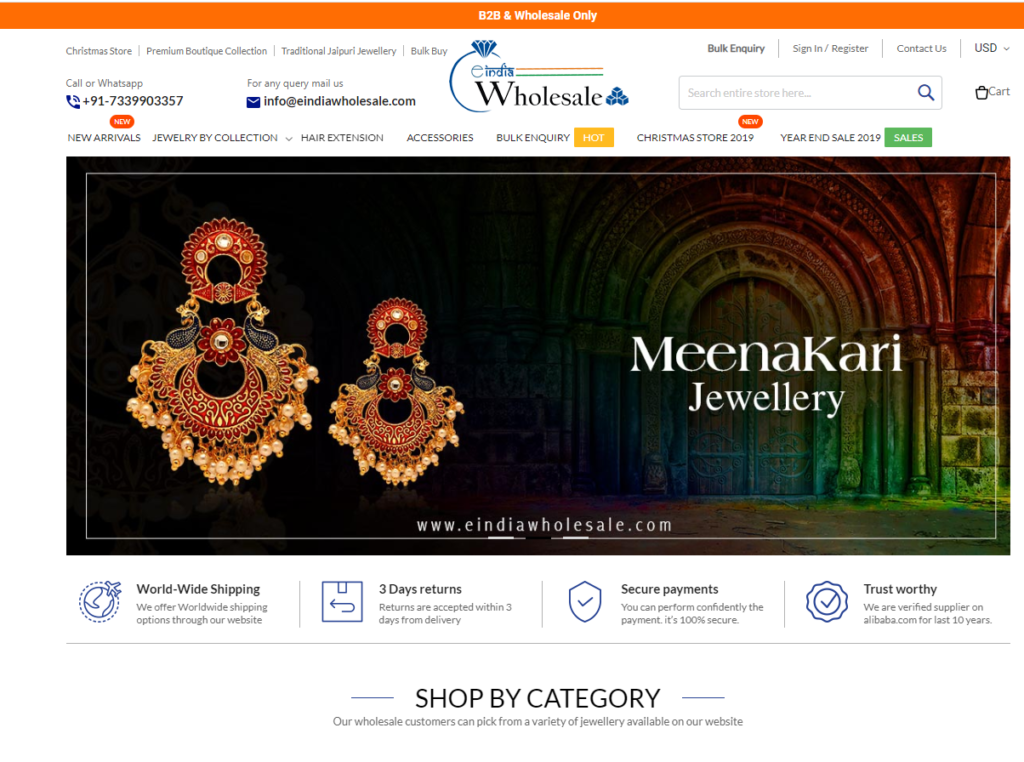 Website: https://www.eindiawholesale.com
E-India Wholesale was founded in 2013 in Jaipur India and is a venture of Jaipur Mart. It is one of the renowned manufacturers and wholesale suppliers of Indian Fashion jewellery, Victorian Inspired Jewellery, Pearl Jewellery, Crystal Jewellery, traditional Kundan Meena Jewellery of Rajasthan, AD Jewellery, Lakh / Lac Jewellery and Bangles are a few famous categories of Ornaments of Jaipur City, which is also known as the JEWEL CITY of India. E-India Wholesale is the largest online store designed keeping in view retailers, re-sellers and boutique owners of fashion and imitation Jewellery in India and Overseas.
The minimum order quantity for buyers within India is Rs 5000 and for international buyers, it is US$100 per order. They have a unique collection of jewellery which is hard to find otherwise and have agreements with FedEx, DHL, UPS and Indian Post to make the shipment process faster. Also, have a showroom in Jaipur India where buyers are welcome to visit and feel the quality and buy direct from their ready stocks.
Contact ActonaSourcing to explore opportunities to source unique and profitable products from India.
Are you looking for profitable products to sell on Amazon FBA?
Check out our below blog post – Get a 50% discount coupon code for Helium 10
5 Proven Steps To Find Winning Products For Your Private Label Amazon FBA Business In 2020 Using Helium 10