Source Imitation Jewelry Wholesale From India
When it comes to starting a business, there's nothing more important than finding the right suppliers. With fast fashion, a sense of jumping on new trends, and a global online supply, imitation jewelry is selling like hotcakes. According to one report, it is worth as much as $32 billion and growing.
There's no doubt, this is the right time to start a jewelry store online and there are a few things you need to do, but the most important is finding a wholesale jewelry manufacturer. Indian artificial jewelry market is one of the largest, and cheapest, producing some of the most sophisticated designs for a few cents on the dollar compared to other wholesale costume jewelry suppliers. If you're already in the costume jewelry business, online or in a storefront, you can work with Indian wholesale jewelry manufacturers who offer the widest range of styles and premium quality. It is always crucial to find imitation jewelry wholesale suppliers in India.
What Are The Benefits of Sourcing Wholesale Imitation Jewelry From India?
Indian imitation jewelry wholesale suppliers and manufacturers are already exporting to countries like the US, UK, UAE, and European states. The logistics network already exists and getting your delivery from India won't be a huge challenge.
India is the fastest-growing imitation jewelry supplier and the second-largest by market share. The market is competitive for overseas orders, and you'll usually get the fairest price on bulk orders.
Indian imitation jewelry exporters use a single license to offer a variety of products. There is a huge raw material supply for producing costume jewelry, 14k and 18k gold jewelry, gems, metal jewelry, and imitation stones. Jewelry craftsmanship is one of the oldest and most reliable in the entire world.
TOP 6 Costume Jewelry Manufacturers In India
If you've made up your mind to import jewelry from India, you'll find a whole bunch of suppliers, offering the same product and promises of quality. In experience, it is always recommended to check for online reviews, contact the company and speak with other suppliers to find out the market prices.
According to our standards, these suppliers topped the list of imitation jewelry wholesale suppliers in India.
Year Established: 1996
Location: Noida, India, Business all over India
IndiaMart is too important to be left off this list. It is a great place to immediately connect with jewelry manufacturers in India. You can easily filter and sort the type of manufacturers you're looking for. Most Indian jewelry makers already operate through this site and you can easily read customer reviews and find reliable seller ratings.
Another reason you should think of importing through IndiaMart is the discount on bulk orders. Exporters are already looking for your buck, and keep their prices competitive, but getting reliable shipments through a third party adds a layer of trust.
Year Established:
Location: Kolkata, India
Jewels Galaxy offers some of the trendiest rings, necklaces, pendants, and bangles. If your store's best-selling products are these tiny ornaments like earrings, you would like their product range. Jewels Galaxy or Arihant Bangles is in the export business for the long term and covers shipment to 155 countries. International orders are shipped through the courier of choice and take anywhere between 1-2 weeks.
This wholesale jewelry supplier has over 10,000 unique pieces and sells custom jewelry designs and imitations of designer jewelry. One thing, you'll like about this store, is their response time and clear quotes. The brand prides itself on its total price policy and states all charges upfront, without hiding any tax or hidden shipping fees.
Year Established: 1987
Location: Jaipur, India
Derewala is in business with thousands of retailers. They have established themselves as big industry players and aren't the cheapest exporters from India. Their main business is gold and silver jewelry, but they have the facility to process imitation jewelry made from brass or nickel.
They are on the list because of their high-quality standards. If your business sells valued products and is respected for quality, importing from Derewala should be your priority. They work mostly on metal jewelry and take custom orders of any size and weight. Their zero tolerance for quality has won them many awards and brought them into business with European sellers.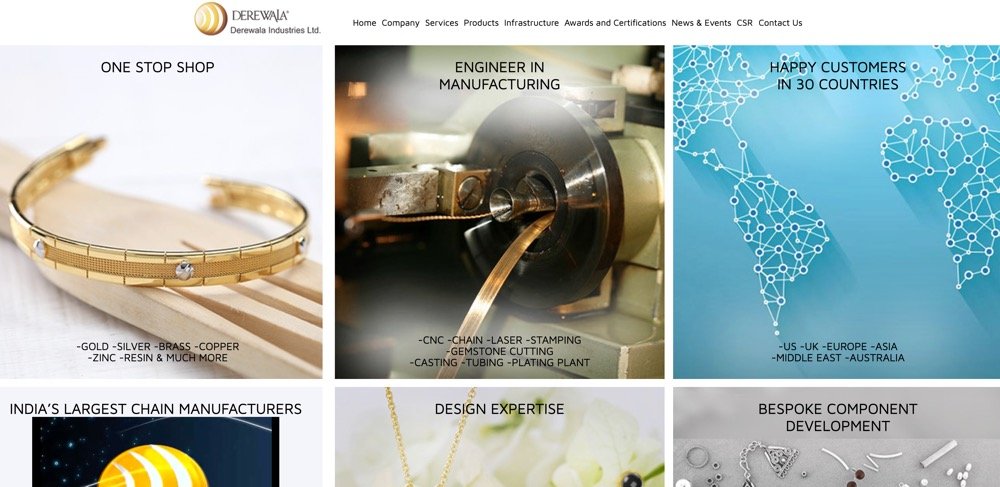 Year Established: 2001
Location: Mumbai, India
Kanhai Jewelers specializes in selling Indian cultural jewelry and western-themed jewelry. Their products include earrings, rings, and necklaces, and they go beyond the standard by offering the tiniest pieces like nose rings and thin chains. If you like working with a single reliable supplier, Kanhai should suffice your needs. They update their stock weekly and release new designs every other day.
They keep their prices low and work with minimum orders starting from $200. Almost all of their products are ready to ship and work with minimal paperwork. The business started in 2001 and has grown since to include western and American designs.
Year Established: 2010
Location: Mumbai, India
Manek Ratna is a popular imitation jewelry supplier from India. They have an extensive product lineup of everything under the sun from basic designs to more traditional Indian designs. They offer a taste of antique, Polki, and CZ jewelry, among others.
What sets them apart from other manufacturers, is their more eastern jewelry. For stores dealing with primarily South Asian customers, their products are based on the most sought-after designs. They also sell fabric and oxidized jewelry. Their website has detailed serial numbers, photos, and prices along with all the size and weight information.
You can easily get in touch with Manek Ratna for bulk orders and find them to be professionals wanting to expand their business and offer their services to valued importers and customers.
Year Established: 2000
Location: Mumbai, India
R-Chie Creations are a smaller Indian jewelry exporter and smaller businesses, and startups should be more comfortable working with them. They have competitive prices, but a smaller product range. Smaller exporters can focus on individual customers and offer better services and that is exactly why R-Chie Creations is on our list! They also work with custom designs and their main objective is client satisfaction. According to reviews, their response time is immediate, and their quality remains consistent with no missing shipment orders.          
Tips On Finding Indian Wholesale Jewelry Manufacturers
Indian wholesale manufacturers work with gold, silver, and diamonds, and most extend to alloys like zirconia or metals like titanium. Custom orders involving jewels, beads, and mirrors are also made at their factories. You can always choose to visit these markets in person, to negotiate a better deal, but first, let's take a look at a few tips on finding these suppliers.
Find out what your business type is. Are you a jewelry trading company, an online retail store, or a fast fashion retailer? This will help you find out your taxes, policies, and compliance as an importer. Most exporters speak English and will draw up agreements quickly, but that's not enough and you can choose to work with a sourcing agent working on commission. He'll take care of finding the product and supplier in your place.
You can work with imitation jewelry wholesale uppliers in India in open bazaars across India for the best deals, and there are three markets you should focus on
Choosing The Right Supplier
The right supplier will make no compromise on quality. This should also be your priority as you don't want to end up with defective goods.
Quality of business is a key factor and opt to work with tried and tested suppliers through reviews and by first placing a small order. Another thing to consider is the price. Sometimes, imitation jewelry wholesale suppliers will sell you short and give an inflated quote. The right exporter will give the market price or make a discounted offer. Lastly, look for clear communication. Avoid sellers who sound confusing or force you to buy their stock drawing similarity with your custom designs.
Research carefully for an exporter that is reliable, trustworthy, and open to business by sharing risks with you.
The bottom line is you get more than you bargain for with imitation jewelry wholesale uppliers in India. You can work with them to build a long-term business relationship and get even lower prices. Buying from the right wholesale jewelry manufacturer will increase your profit margin and make deliverables hassle-free.
Start now on your importing business by contacting one of the sellers mentioned in our list!